Assembly Floor Analysis
The Assembly Floor Analysis (AFA) Unit is a part of the Chief Clerk's Office that is responsible for providing the public and Assembly Members with analyses, prepared by committee staff, of every bill and amendment on the Floor.
Bill Analyses
Every bill goes through the committee process.  If a bill is recommended for passage by a committee, it is placed on the Second Reading File for one or two days before moving to the Third Reading File.  The AFA Unit receives the bill analyses from the appropriate Assembly policy committees.  The analyses are proofread and edited by the AFA Unit and are compiled into the "Third Reading Packet."  The packet is made available to the public and on the Assembly Members' chamber laptops during Floor session (Assembly Rules 68.6 and 68.7).
Amendment Analyses
When amendments are submitted to bills that are pending consideration on the Floor, the AFA unit, in coordination with committees, is responsible for producing analyses for the amendments (Assembly Rule 69(a) and 69(b)(2)).  Once the amendments are adopted, the AFA Unit posts an analysis based on the amended version of the bill.
Concurrence Analyses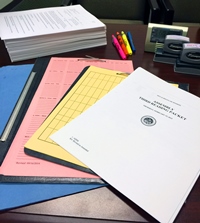 The AFA Unit also tracks Assembly measures that are amended in the Senate.  Once a bill has passed out of the Senate, the AFA Unit proofreads, edits, and posts a Concurrence analysis received from the appropriate Assembly policy committee (Assembly Rule 77).
Governor's Veto Analyses
If a bill is vetoed by the Governor, the AFA Unit posts a Governor's Veto analysis which includes the veto message.
Other Duties
The AFA Unit, in conjunction with the Rules Committee and the Legislative Data Center, also participates in the training of committee staff.
At the end of a two-year session, the AFA Unit archives all publicly released analyses with the California State Archives.